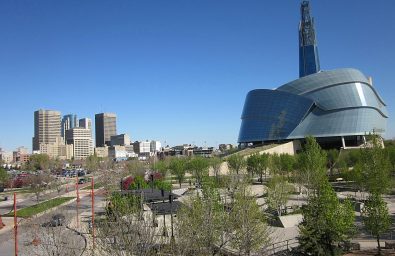 The beautiful Province of Manitoba is often called the "Gateway to Western Canada". Manitoba is friendly, low cost and has a stable and prosperous economy. Yes, winters in Winnipeg, the province's main city where most of the population resides, are pretty cold.
Manitoba is an open and friendly place with a thriving labour market thanks to its abundant natural resources and agriculture. Canada has a long tradition of welcoming immigrants, and Manitoba is no exception. with low unemployment rate, good wages and benefits, safe working conditions, and well-run public health and education systems. The skilled worker stream of the MPNP looks to service the needs of employers in the province.
Manitoba has an amazing natural environment, a quiet, prosperous and friendly community full of friendly people in each of its cities, a good security system, with economic stability. It has a capital city with up to 700,000 people, and even then its inhabitants will not lose their human qualities. Within this province, immigrants will be able to explore, know, live and reside freely, feeling integrated in the best way within the Manitoba culture.
At present, the Canadian province "Manitoba" began to implement new programs for students and important or qualified immigrant workers; who vary in requirements and legal documentation for the correct process of admission and acceptance.
A system that began to be implemented starting in 2015 called "Expression of Interest of Manitoba" which consists of an electronic portal which will present to the applicants different questions to answer and save it in a personal profile created by the same applicant, once completed, the system will grant a weight class that will depend on the person's responses.
All those who want to present the Expression of Interest may do so without concern since it has no limit of applicants or deadline either. Those with the best weights will receive an invitation or request for immigration made by the same Provincial Nomination Program of Manitoba.
Through this system, Manitoba will be responsible for the administration of all applicants and the selection of those who will receive the visa and those who will not receive it.
Express Entry
There is a well-known method called "Express Entry" which applies to those who have been able to create their own space in the aforementioned system; after this it will be absolutely necessary that the person has a minimum of six months exercising a job or employment position that is highly demanded within the country, also have a family member or friendship within the country that can provide some kind of support for the person, if not, then receive an invitation to enter the invitation system of the province. Attached to this, the person who wants to opt for the Express Entry must have sufficient capital.
If the person is interested, opt for the "Expression of Manitoba Expression" system, without having to request or opt for the Express Entry.
Manitoba has a special admission program called "The Manitoba Provincial Nomination Program for Qualified Workers", its acronym in English being MPNP, where those potential new immigrant workers will acquire a permanent residence visa, to live, work and even study within the province. Also applicable for students and those who are already in the area, who have received an offer for a job permanently, possessing the necessary work permit and with a minimum of six months of work experience.
Requirements
Those who seek to apply for this visa through this program must submit the so-called Establishment Plan. The said plan consists in that the applicant will state in writing the steps to follow in order to fulfill all his labor goals in mind.
The most important factors when allowing immigrants access to reside within the province are the correct, fluid and high management of their languages, age; since certain ages have a lower percentage once they calculate the annual population index and are the ones that are most needed, such as young adults between 20 and 34 years old. If the person fulfilled his basic education, extending to get a university degree or even a master's or doctorate will have much power when considering whether or not to grant a permanent visa.
It is also extremely important to have a solid work experience, wherein the tests that are submitted to enter, you must answer in an honest way how much time was spent exercising a job, if it was more than a year or not, and if you worked full time; since these are the ones that are really taken into account. And last, but not least, the applicant must show that they really want to reside in the province, possessing some type of appreciation or link that ties them to one of their cities or different zones and that as a new resident they will also guarantee a contribution that It can help strengthen the economy.
Very similar to the previous program is the "Manitoba Provincial Nomination Program for Business People"; which consists of the admission of people mainly dedicated to business, without limits or borders, it will not matter from what part of the world it belongs. These people who are looking to reside in the province while they set up and march a company or corporation, in such a way will guarantee jobs and support and contribution to the economic system.
This selection process is characterized by being fast, a process that will not take long and that in the end will grant the proper "Nomination Certificate".
Canada and its Manitoba province offer different programs, where they themselves are responsible for the administration of applicants so that immigrants can acquire permanent residence visas, having a preference for those young adults with work experience and those who have high educational levels. , they will have the virtue of bringing with them their entire family group to settle within the country and within the province of Manitoba.
Provided they comply with the aforementioned requirements, guaranteeing an active participation in any of the economic sectors. They will be able to obtain community help as soon as they arrive in the province, which will be in charge of guiding them and providing support whenever they need some kind of guidance in a topic that is not known or any question that has not been answered. In the same way, different entities that provide aid can be obtained online, which would be going to be inside or outside the country, as the case may be.