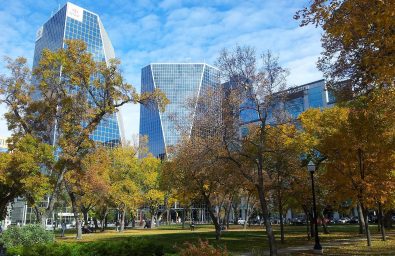 Saskatchewan is a Canadian province that is located throughout the center of the country, is a famous place to settle, has great benefits that are attributed to the strong economic base that bring their possession multiple natural resources where you can mention oil, different minerals, and natural gas.
Saskatchewan has multiple communities in a great sense of friendship and community, the general costs to live decently are quite comfortable, it also has a number of jobs offers quite complete and the temperature as the year progresses does not touch extreme temperatures, because has the company of the sun to counterattack the cold winds, in general it is quite cool.
Saskatchewan has a special program for immigrants wishing to settle within their cities. This program mainly selects people who possess skills, knowledge, skills that the province is in need of or with multiple job vacancies. Since annually Saskatchewan demands a certain amount of people with the specific knowledge and skills to develop the jobs and activities demanded by its economy, in order to maintain it, it is achieved by first admitting the people who meet these requirements.
Without forgetting, of course, those who have strong desires to invest within the province, either move or start a new organization that can, in the same way, benefit the country and its inhabitants.
Requirements to emigrate to Saskatchewan
Its admission system is not simple; it is qualified as one of the most complicated because it is so demanding and selective.
Being a newcomer immigrant may choose different services that facilitate getting a job and a place to live. Different organizations offer information about what lifestyle is like in a Canadian province like Saskatchewan, not only facilitating employment but also allowing them to understand the way they work. If the immigrant is in search of a job or employment position that is related to a specific profession that he has, it will also be possible with the appropriate advice.
Everything will depend on what the person is looking for himself or for his family group in case he has not reached the province alone; the different services can be both online and in person, showing options of different languages ​​to suit each person.
The immigration program of Saskatchewan (Saskatchewan Immigrant Nominee Program, SINP), in the category of international skilled workers (International Skilled Worker Category), seeks to attract immigrants between 18 and 50 years old, who speak English (French is not necessary, nor relevant), with a diploma (or at least 3 years of study) and work experience (of at least 1 year) in more than 200 occupations in demand in the provincial market.
The immigrant can settle with his family, including dependent children up to 22 years old (single).
Saskatchewan does not require the candidate to have a job offer in the province.
The minimum level of English required for the IELTS exam is 3.5 in Reading, 4.0 in Writing, 4.5 in Listening and 4.0 in Speaking; in the CELPIP exam, it is 2H.
The disadvantage of this program, however, is the establishment of quotas for processing the files. For 2014, the limit was set at a maximum of 250 applications for permanent residence.
In the same way as the other Canadian provinces, such as Quebec or Alberta, Saskatchewan selects its immigrants autonomously, but it is the federal government of Canada that decides the definitive entry of the candidate.
Saskatchewan points system
The selection of immigrants is done according to a points system that assesses different criteria such as occupation, age, language and connection, the latter is the demonstration of family ties with inhabitants of the province.
The linking factor, although not restrictive, is one of the highest scores awarded.
The minimum score required of the candidate is 60 points.
The points system of Saskatchewan can be summarized as follows:
Selection factors and their respective scores:
Education (maximum 23)
• Master's or Ph.D. degree: 23 points
• University Diploma (at least 3 years): 20 points
• Technical or post-secondary (min 2 years): 15 points
• Technical or post-secondary (1-year minimum): 12 points
WORK EXPERIENCE (max 15)
5 years before sending the application (max 10)
• 5 years: 10 points
• 4 years: 8 points
• 3 years: 6 points
• 2 years: 4 points
• 1 year: 2 points
6 to 10 years before the application is sent (max 5)
• 5 years: 5 points
• 4 years: 4 points
• 3 years: 3 points
• 2 years: 2 points
LANGUAGE (English or French) max 20, CLB stands for Canadian Language Benchmarks
• CLB 8+: 20 points
• CLB 7: 18 points
• CLB 6: 16 points
• CLB 5: 14 points
• CLB 4: 12 points
AGE (max 12)
• 18-2 years: 18 points
• 22-34 years: 12 points
• 35-45 years: 10 points
• 46-50 years: 8 points
ADAPTABILITY OR LINKAGE WITH THE PROVINCE (max 30)
• Job offer in the province: 30 points
• Family in the province: 20 points
• Work experience in the province (12 months experience in the last 5 years: 5 points
• Studies in the province (12 months): 5 points
Occupations on demand in Saskatchewan
A total of 202 occupations make up the complete list of professions or trades required in Saskatchewan.
If the occupation is regulated in the province, the candidate will be required to prove that he has obtained the Saskatchewan license to be able to work in that profession before applying for visas.